Venue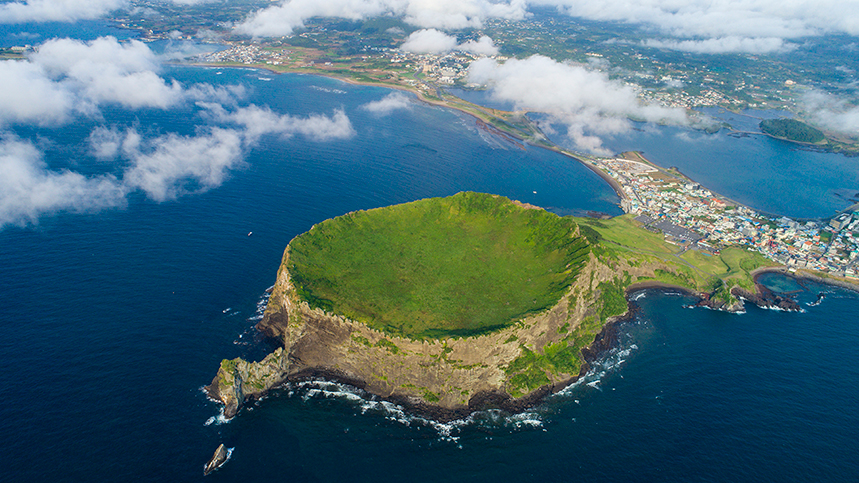 ICC JEJU
The ideal location for a convention combined with leisure and recreation
Situated at the center of Northeast Asia, Jejudo Island has long enjoyed its prestige as an acclaimed tourist destination. Superior accessibility, a wide range of lodging facilities, and bountiful tourist assets make it a dream location for conventions with almost unlimited recreational resources at hand. In particular, the Jungmun Tourist Complex, home to ICC JEJU, offers state-of-the-art tourist amenities, combining all necessary functions including lodging, recreation, and shopping. Now you can offer yourself a new concept of convention; experience 'recreation-convention' with ICC JEJU.
World-class facilities
ICC JEJU offers world-class convention facilities including convention halls, conference rooms and event halls. ICC JEJU is also proud of its catering facilities, designed to add pleasures and delight to the palate. ICC JEJU, equipped with elegant installations and stylish interior, will set a new standard for resort-style convention centers at large. With ICC JEJU, the concept of convention rises to new heights of class and distinction.
Impeccable Service by Convention Professionals
In ICC JEJU, conventions are planned and organized by experienced and expert convention professionals. From A to Z, we customize and tailor every stage of your event according to your needs. Our service is all-inclusive, covering every area down to the last detail that matters to your event's success; from transportation, lodging, and event support, to tourist programs and upscale catering. See for yourself what a genuinely committed professional hosting service it offers.
ICC JEJU in short
ICC JEJU, which has a site area of 54,876 ㎡ and a total building area of 62,125 ㎡, is a building of 7 stories above ground. It specializes in international meetings as it is fully equipped with an international convention hall that can accommodate up to 4,300 persons, meeting rooms of various sizes, an exhibition hall, and other related auxiliary facilities.
Location
Jungmun Sightseeing Complex, Seogwipo City, Jeju-do, Korea
Related Homepage
Getting to the Venue
Transportation
Access to Jeju
International flights

Flight service is available for 11 cities in three countries: Japan, China, and Taiwan For international meetings. Jeju allows visa-free entry for 184 nationals for stays less than 30 days. Expanded flights and direct flights are also available.
Several direct international routes connect Jeju to major cities. Entry and departure policies have been established for Jeju applying nowhere else in Korea: those who otherwise could not, including individual tourists from China, may enter without a visa. Visitors may stay for 30 days without visa.

Incheon International Airport

39 major international airlines from 23 countries provide regular flight service between Incheon International Airport and other major cities worldwide.

Flight Route to Jeju

There are three ways to fly to Jeju Island: direct international flight, transfer from Incheon International Airport for domestic flight to Jeju, or transfer to Gimpo Airport from Incheon International Airport by ground transportation (bus, train) for domestic flight to Jeju.

Transfer to Gimpo Airport for flight to Jeju

Upon arriving Incheon International Airport, you may take an airport limousine bus to Gimpo Airport. It takes about 30 minutes, and the fare is 6,000 Korean won (*US$ 5.5). The airport limousine bus runs every day from 05:00 to 21:30 at 5 to 10 minute intervals.
Train is also available from Incheon International Airport to Gimpo Airport. It takes 33 minutes for 3,650 Korean Won (*US$ 3.3). It operates from 05:50 until 23:58.
The national carriers including Korea Air and Asiana Airlines operate at 15 to 20 minute intervals from 06:55 to 20:50. Flight time is about 50 minutes.

Access to ICC JEJU (From Jeju International Airport)


From Jeju Internation Airport, you will reach ICC Jeju in approximately 40-50 minutes by car through Pyeonghwa-Ro Road. Limousine buses are also available every 15 minutes at the airport.

Guide to the airport limousines
(Jeju International Airport ↔ Jeju International Convention Center)
Place
Limousine bus stop at the left side of the front gate (Samyoung Traffic No. 600)
First departure
06:20 at the airport; last departure: after the arrival of the last airplane
Service route
Airport → T.H.E Hotel and Vegas Casino Jeju → Entrance to the Yeomiji Botanical Garden → Hyatt Hotel → Shilla Hotel → Lotte Hotel → Hankook Condominium → Jeju International Convention Center → New Gyeongnam Hotel → Seogwipo KAL Hotel
Taxi guide (Jungmun - Jeju International Airport)

Select the distance (long-distance or short-distance) at the taxi stop.
When you go to the Center, it is all right to take a taxi at the long-distance stop.
Since the taxi fare is fixed, please confirm the distance before taking a taxi
Fare (Korean won) : About 30,000 won; Distance: 40km; Duration: 40-45 minutes

Rental Car Guide

Advanced reservation is recommended if you plan to rent a car.
Upon arrival, you can sign up for rental cars at the rent-a-car desk nearby airport exit.
Map
Useful Info
About Korea
About Jeju
Incheon Airport
Korea Airports Corporation
ICC JEJU
Booyoung Hotel & Resort
Korea Visa Portal
Currency Converter